Despite the many lawyers who handle personal injury cases each year, an air of mystery continues to shroud the profession. When a big case goes public, like the McDonald's hot coffee lawsuit, everyone from the local television anchor to your next-door neighbor has an opinion about what is right, wrong, or even legal. Unfortunately, these uninformed opinions have created some rather damaging myths about personal injury. Below are five of the most common myths debunked:
Myth # 1: You Don't Need a Lawyer to File a Claim
TRUTH: Legally, you CAN negotiate a settlement and file a personal injury lawsuit on your own. But SHOULD you? Insurance companies have teams of experienced adjusters, investigators, and lawyers trying to settle your case for as little money as possible. Even if you make your settlement or lawsuit your full-time job, your knowledge and expertise will not match theirs. Personal injury attorneys, however, dedicate their practice to helping clients like you.  Experienced attorneys are well versed in the law, they know the rules, procedures, and weird kinks about the legal system. If you hire legal representation, you are more likely to receive a higher settlement than if you attempt to handle the case on your own.
Myth #2: Lawyers are Expensive, You Can't Afford One
TRUTH: Most personal injury law firms accept cases on a contingency fee. This means that the attorney is paid a percentage of the settlement. If the attorney does not receive a settlement for the client, then they don't get paid.
Myth #3: Any Attorney Can Handle Your Case
TRUTH: No, you should not just use the same attorney who made your parents' Wills back in 1997. The law is large and complex, no one attorney can do it all. Hire a lawyer, like a car accident lawyer Phoenix AZ trust, who has been consistently practicing personal injury, they will be familiar with the substantive law and procedural rules of your case.
Myth #4: You Can File Your Claim Whenever
TRUTH: Most states place a statute of limitations on filing a personal injury claim. This means you MUST file your claim within a certain time frame, or you might forfeit your right to the claim.
Myth 5: You'll Get Rich Quick
TRUTH: Most claims awarded are just enough to cover your medical expenses. You might be able to recover damages for pain and suffering or lost wages, but don't expect any outrageously large checks coming your way. The goal of a personal injury claim is to get you back to where you were financially before the injury happened.
If you've been injured due to someone else's negligence, you should always consult with an attorney to see what your options are.  Don't let false information prevent you from receiving compensation for your injury. Contact Kamper Estrada, LLP for a free initial consultation with our experienced personal injury attorneys.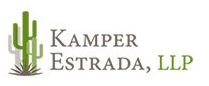 Thanks to our friends and contributors from Kamper Estrada LLP for their insight into common myths about personal injury practice.